Date: October 25, 2022
Time: 7:00 PM EDT / 6:00 PM CDT / 4:00 PM PDT / 11:00 PM GMT
Sponsor: EMS Dental
Duration: 1 HourRegister Today!
Already registered? Please click here to log in!
Earn 1 CEU Credit

Over the last two decades, medical science has made countless discoveries demonstrating dental healthcare providers' ability to reduce non-communicable health risks, enhance patients' long-term systemic health outcomes and lessen the national medical financial burden. In the United States, the statistics demonstrate more than half the population exhibits some form of periodontal disease1; when we include gingivitis into that data, the number dramatically increases. Although numerous studies have demonstrated that patients who receive routine comprehensive preventive and periodontal care have fewer emergency room visits and reduced overall medical expenditures2, many patients cannot access this life-saving care. Additionally, dentistry continues to cling to legacy protocols that do not move the needle towards identifying the root cause and support a reactive model of care. No wonder dental hygienists are frustrated and burned out; the profession was conceived on the foundation of prevention, yet there are various limitations to executing the comprehensive care hygienists are educated to provide.

There is an epidemic in dentistry where dental practitioners provide routine prophylaxis to patients with inflammatory diseases such as gingivitis and periodontitis due to the dictation of care by third-party payees. Frequently, there is a missed opportunity to leverage the dental hygienist's comprehensive knowledge and skills to suitably treat the unhealthy patient population, which has a dynamic effect on the healthcare delivery system and the lives of the patients they serve. Therefore, there has never been a better time for dental professionals to optimize their practices to offer integrated dental healthcare, which utilizes all dental professionals to the top of their medical and dental scope of practice.

Advancements in science and dental technology demand dentistry to promote the dental healthcare provider's role in the early disease detection and risk mitigation of many non-communicable systemic health conditions and embrace oral health's impact on overall health and practice of Healthcare Hygiene.

In this course, attendees will discover:
Identify the incidence of oral and systemic disease in America
How to communicate periodontal risk to your patients
Guided Biofilm Therapy protocol
The importance of the research phase of the dental hygiene appointment
Adjunctive therapies for improved patient compliance
Presented By

Melissa A Obrotka, BA, RDH
US GBT Education Manager
EMS Dental

Melissa A Obrotka, BA, RDH, holds over 25 years of experience in the dental field and concentrated clinical experience with the dental implant patient population. Melissa's core objectives for patient care are focused on a "wholestic" approach to dental prevention, disease remission, and therapies that encompass total body health and wellness. Her approach to patient care is focused on biofilm disruption strategies for periodontal and peri-implant health and longevity while providing healthcare advocacy to patients.
In addition, Obrotka is a dental hygiene motivator, educator, podcast host, change agent, influencer, and industry thought leader. Obrotka serves as a clinical adjunct professor at her alma mater, Bergen Community College in Paramus, New Jersey, where she elevated clinical education by instructing students on the oral microbiome, biofilm disruption and introduced the Guided Biofilm Therapy (GBT) methodology. Obrotka was nationally recognized in 2016 as a Master Clinician for her outstanding clinical expertise. In 2017, Obrotka was named one of the "Six Dental Hygienists You Want to Know'' by Dimensions of Dental Hygiene and now serves as the US GBT Education Manager for EMS Dental.
Moderator: Brian Rosebrook
Dental Economics
Supported in part through an unrestricted educational grant by: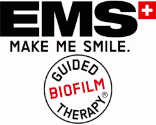 Login
Accessing this course requires a login. Please enter your credentials below!