A peer-reviewed course written by Nathanial C. Lawson, DMD, PhD
Abstract
Zirconia has become the most prescribed material for posterior crowns in the US. This material has undergone an evolution in the fabrication process since its introduction as primarily a framework material. Newer forms of zirconia have become more translucent, such that they may be used as anterior crowns. The increased translucency, however, comes with a tradeoff in strength. This course will review the generations of zirconia, some of their clinically relevant properties (strength, translucency, degradation), and the process of fabricating these crowns in the dental laboratory.
Educational objectives
At the conclusion of this course, the dental practitioner will be able to:
Describe the compositional differences among the various generations of zirconia and how they affect the relevant clinical properties of the material.
Describe how the relevant properties of zirconia can be altered by the methods in which zirconia is fabricated by manufacturers and sintered in the dental laboratory.
Choose a generation of zirconia based on specific clinical needs.
Use high quality zirconia materials and follow manufacturer's recommendations for milling and sintering.
---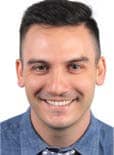 Nathaniel Lawson, DMD, PhD, is the director of the Division of Biomaterials at the University of Alabama at Birmingham School of Dentistry and the program director of the biomaterials residency program. He has published extensively on the topics of mechanical, optical, and biologic properties of dental materials and clinical evaluation of new dental materials. He lectures on clinical applications for modern dental materials and works as a general dentist in the UAB Faculty Practice.
Image credit: © Jakkarin Jindapon | Dreamstime.com
Quick Access Code: 21012

Login
Accessing this course requires a login. Please enter your credentials below!